I am especially interested providing meaningful and lasting professional learning experiences for educators. I am lucky to be able to practice this passion through work with teachers in my school and district, as well as teaching master's level courses through Michigan State University's Masters in Educational Technology (MAET) program.
MAET YEAR 1 OVERSEAS
The website below show the curriculum, content, and student engagement in the summer overseas year one cohort of the MAET program that I co-teach.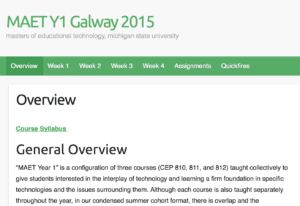 DISTRICT 34 PROFESSIONAL LEARNING
This is a small sample of resources from professional learning experiences I have co-led in Glenview School Distrtict 34 with Becca Roseman, Instructional Coach. Each session embeds technology integration, and focuses on a topic of interest identified by our colleagues.